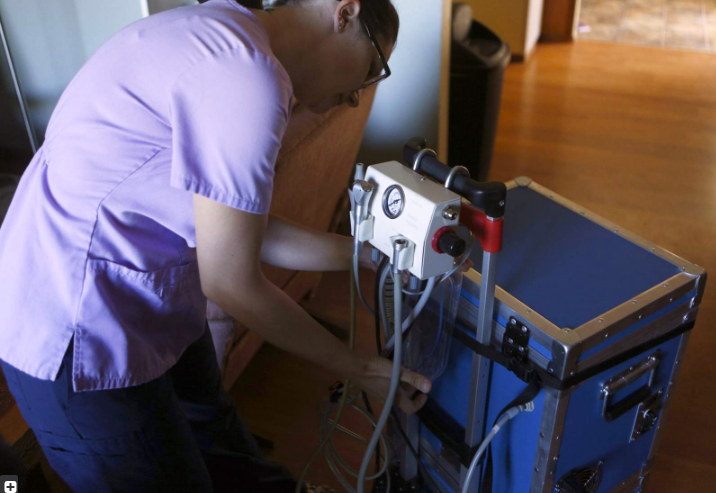 Elderly patients, people with disabilities and those who cannot afford oral health care in Central Oregon are finding mobile dental hygienists who come to their homes for treatment can be a suitable alternative to traditional dentistry.
Several licensed dental hygienists in Central Oregon have created their own mobile dental hygiene businesses after realizing the need to make dental care access easier for people who do not have insurance, cannot get time off from work or cannot physically get to a dentist's office. The hygienists go to a patient's home and provide preventive oral care and professional dental cleanings, Desiree Strawn, a part-time mobile dental hygienist, said Friday.
Strawn said she often treats low-income patients who have not been to a dentist in more than 10 years.
"There are so many that don't receive care because they fall in middle ground where they have no insurance," she said. "Or they fall under certain health insurance guidelines but cannot afford out-of-pocket fees to see a dentist. What do they do?"
Oregon Public Health reported that in 2015, only 66.9 percent of Oregon adults visited the dentist once per year. About 203,000 Oregonians did not have any health insurance last year, and employment status is strongly related to insurance coverage, the Oregon Health Insurance Survey reported.
Although she does not accept insurance, Strawn said, she offers preventive care that usually costs between $45 and $70 depending on how far she has to travel to her patients.
"I'm kind of that first step in getting their teeth cleaned and getting their gums in good health," she said. "If I see something that just doesn't look normal I'll say, 'You need to go see your dentist.'"
Strawn travels to her patients with her Dental Dolly, a suitcase-like unit equipped with an air compressor, water and tools. She said the compact unit is convenient because she never knows what kind of situation to expect with patients.
Dental Dolly creator Agustin Olea, of Culver, said Friday he began making the portable dental unit after his wife, Virginia Olea, wanted to start her own mobile hygiene business. Other portable units were too expensive, he said, and did not have all the features Virginia Olea wanted.
"It's kind of experimental for us," he said. "I started looking at what (Virginia) needed to run her business and thought instead of buying one, we can build one. It's nothing hard. It's pretty simple stuff for me."
Dental Dolly units have two boxes that weigh about 35 pounds each and sell for $2,000 to $4,000. The units do not come with dental tools, but they are quiet, have lots of air pressure and collect wastewater, Olea said. He has received inquiries from as far away as Pennsylvania and has sold 13 just over a dozen units in Oregon.
Lana Austin, a local mobile dental hygienist, said Friday she purchased a Dental Dolly from Olea, and has been a part-time mobile hygienist for the past three years working mostly with elderly patients.
"There's definitely a big need here," she said. "A lot of patients are maybe parents of people where it's inconvenient and difficult to transfer them to a dentist's office. Some don't have family around and it's difficult to get to places. Others are in nursing homes or assisted living facilities. It's just easier for me to come to them."
Austin said her other patients work during the day and would lose money if they took time off work to see a dentist, so mobile dentistry allows people to receive treatment outside of normal business hours.
Mobile dental hygienists like Strawn and Austin must be certified with a Dental Hygiene Expanded Practice Permit to practice legally. Austin said in order to become certified, hygienists are required to do about 40 extra hours of education and 5,000 hours of clinical time, more than a regular hygienist.
Austin said one of her patients has Lyme disease and can only communicate using text messages. Strawn also said she has to be sensitive because many of her patients come from a low-income demographic and have a lot of dental issues.
"I feel like I'm making a difference in people's lives," Strawn said. "Most of us doing this really feel there is so much need and we're trying to fill that gap."