This summer may be the fifth consecutive year of the Subaru of Bend Outside Games, but it is the first time bouldering is a part of the weeklong sporting event.
Bouldering, a rock climbing sport without ropes or harnesses done low to the ground on upright or sometimes protruding walls, is one of the fastest growing sports in the nation, Mike Rougeux, bouldering event organizer and Bend Endurance Academy programming director said Wednesday.
While watching the bouldering competition Friday at the Outside Games, Cynthia Pelley, a recreational climber from Portland, said she and her family climbed at Smith Rock earlier this week and came to Bend just to watch elite climbers.
"I think it's great for the community in general to have high-caliber climbers," she said. "You couldn't find a more ethical, cohesive, cooperative group out there. It's an amazing group of integrity and honesty and encouragement. It's just a really great, intellectual sport. That's what's awesome about climbing."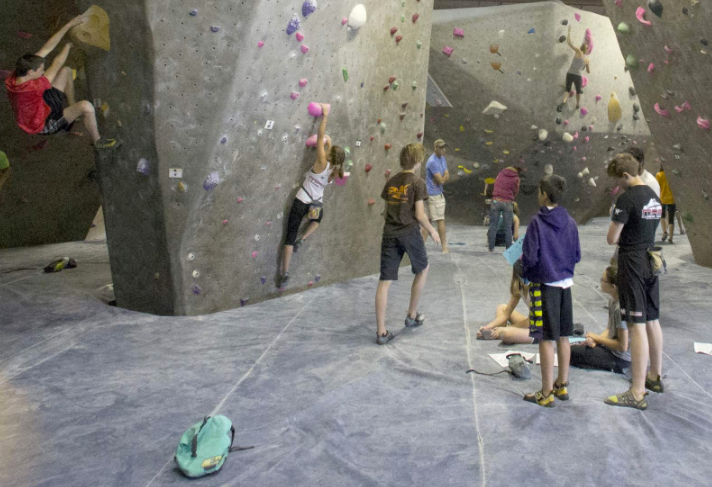 Youth competitor Brady Pfeiffer of Bend said during the qualifier Friday that the climbing community in Bend is also very welcoming.
"Pretty much everybody knows each other and likes to help each other," he said. "You see people give each other tips. It's cool. We're excited for the finals tomorrow."
A study released by 
Personal Health Investment Today America
, an organization that aims to support the health of Americans through physical activity, reported that indoor sport and boulder climbing ranked 70 of 111 top activities or sports in the U.S. and had 4.6 million participants in 2015. Rougeux said one reason the sport has gained so much popularity could be that it only requires rock climbing shoes, chalk and mats in case of a fall.
"We do have a growing community of people that are kind of getting more close-knit," he said. "(With climbing, it's) always one of those things where it's like you go to a spot with friends or a small crew of people. It's a lot more people now, and it's kind of moving away from that. Bend, on average, is on the high side given it's a pretty outdoor, active community."
Bend is commonly known by climbers worldwide because of Smith Rock, which locals often take for granted, Rougeux said.
"It's a world-class climbing spot," he said. "It's been credited as the birthplace of the sport and climbing in the U.S. It's not uncommon to go climbing and to hear the people next to you speak German or French. As far as difficulty, it has everything available from people new to the sport to people who have seen 10 to 11 years of the sport."
Jim Gross, the Subaru of Bend Outside Games event coordinator and operating owner of Bend Radio Group, said Wednesday he has wanted to add climbing to the Outside Games for the past year to help further develop the overall community of Bend and its climbers.
"(Bouldering) is certainly a sport big in Bend," he said. "Climbing was the last major piece of the puzzle the Outside Games didn't have."
Gross said he partnered with Bend Rock Gym, GoodLife Brewing, Hayden Homes and Entre-Prises, a rock-climbing wall manufacturer based in Bend, to put on the bouldering competition Friday and today.
The bouldering portion of the games began Friday morning at Bend Rock Gym with a three-hour qualifying round for professional climbing athletes. During the event Friday, many spectators pointed out well-known athletes in the climbing world like professional U.S. competitors Nathaniel Coleman and Kasia Pietras along with Canadian champion Alannah Yip.
Pro women who qualified Friday include Molly Rennie, Jewels Jimrevat, Sam Scharenberg, Yip and Emily Ziffer. Andre DiFelice, Matt Foltz, Peter Dixon, Jesse Taplin and Coleman qualified for the men's competition. The final competition starts at 6:30 p.m. today at GoodLife Brewing Company, where Entre-Prises created a custom, 18-foot-high and 40-foot-wide climbing wall, which will be donated to Bend Endurance Academy after the games.
Boys and girls also competed in a qualifying round on Friday afternoon and in finals throughout the evening. An estimated 85 athletes competed Friday, Rougeux said, with only five male and five female climbers moving on to today's finals.
Qualifying climbers will each complete four climbs today, and the first-place male and female winners will earn $2,500. The total of cash prizes adds up to $13,000.
"This is insane — in a good way," Rougeux said. "I can't believe we're doing this. I can't believe people rallied together to make this happen. The support is crazy, and we're fortunate to have a climbing community like that."