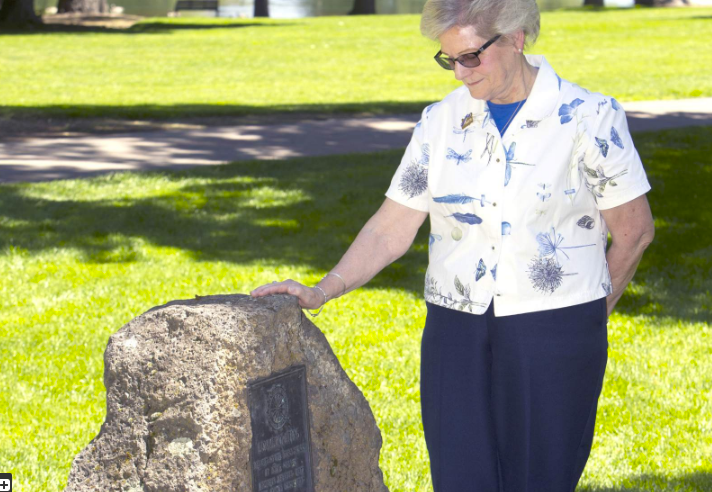 A Bend woman passionate about history and an ancestor of 13 patriots from the Revolutionary War is the new state regent of Oregon for the Daughters of the American Revolution.
DAR, a society of women who are direct descendants of soldiers who fought for U.S. independence during the Revolutionary War, has had 930,000 members since its start in 1890. The society was created after the Sons of the American Revolution voted against allowing women into its organization.
The goal of the nonpolitical nonprofit is to preserve history, celebrate patriotism and promote education, Alice Miles, the new state regent for the Oregon State Society DAR, said Wednesday.
"It's an honor to represent the Oregon society," said Miles, who was elected Sunday. "I did not set out for that as a goal. It really wasn't one of those things."
Miles, 72, previously held numerous DAR office positions such as the honorary chapter regent and parliamentarian of the Bend chapter, and the chaplain and 1st vice regent for the state society.
As a state regent, Miles said she will offer guidance, help promote different DAR chapters throughout Oregon, advocate for more memberships and attend various DAR marker dedication ceremonies around the state to commemorate historical events.
Bend has two DAR markers, Miles said. One was installed in 2014 outside the Des Chutes Historical Museum, which is housed inside Reid School's building. The marker recognizes the 100th year of the school. The second, dedicated in 1958, can be found at Drake Park commemorating where the first school in Bend was built.
Miles will be busy traveling during much of her time in office, and she said her goals for the two years will be to raise money to digitize the Oregon's society's paper records, which go back 100 years.
Her other goal is to bring awareness about endangered monarch butterflies and to encourage other chapters to build butterfly habitats.
Oregon has 37 DAR chapters with 1,778 active members, but Bend's chapter, which dates to 1942, is the second largest in Oregon with 102 active members. Miles said she estimates that the Bend DAR raised about $2,000 to $3,000 last year and recorded about 4,000 hours of service.
The Bend DAR created a nursing scholarship in 2005 at Central Oregon Community College and donated $6,000 to it last year, enough for two scholarships, which are often awarded to single mothers going back to school, Miles said. The local chapter has also organized a history project to document veterans' war stories and share the information with the Library of Congress, in addition to hosting various essay and literary contests in schools around town. In 2015 and 2016, members also donated 3,000 new and used children's books to shelters and foster care.
Each year on the Fourth of July, the Bend chapter has a booth at Drake Park selling patriotic items, promoting DAR and encouraging women to become members. To do so, women must prove their lineage with documentation of birth, death and or marriage.
Janet Baskerville, Bend's DAR chapter registrar, said Wednesday she helps women trace their genealogy for free from 12:30 to 4 p.m. Tuesdays at the Jesus Christ Church of Latter-day Saints in northeast Bend.
"I am the one that helps them with tracing their lineage and submitting their (DAR) application," Baskerville, 39, said. "You have to be able to document everything you say for DAR. There are a number of historical and geological sites that cost money, but a very good one is 
familysearch.org.
 That is free but DAR has a list of patriots on (its) website who have already been proven."
Miles said her father told her in high school she was a descendant of a Revolutionary War soldier, and she was surprised after looking more into her genealogy, especially from her mother's side.
"I was always interested in history, so I've spent all my life researching," she said. "I have 13 patriots who were Revolutionary War soldiers. One died at Valley Forge."
History and education are important, Miles said, and students in schools today do not learn enough about American history or why America is the country it is today. She said DAR is a community she is really grateful for.
"The best thing about joining DAR is all the wonderful connections you'll make," Miles said. "Some of my best friends are from DAR. You help each other and you become really close friends."
— Reporter: 541-382-1811,