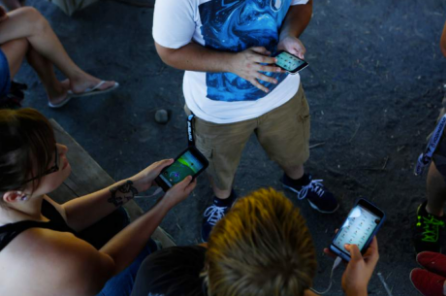 Whether people in Central Oregon are hiking and enjoying the view at Pilot Butte, shopping at the Old Mill District or spending time downtown, they've also been spotting more and more Pokémon Go players hanging out at these popular places in Bend.

Pokémon Go, a popular new app released July 6, is an augmented reality game in which users capture and collect Pokémon, or "pocket monsters," based on their real-world location. Using a smartphone camera, the Pokémon are superimposed into reality, pop up on the screen and can be caught and trained for battle. Many millennials grew up in the '90s playing the game on their Nintendos or Game Boys and collecting and trading Pokémon cards, but now the game has made a comeback that has many feeling nostalgic about their childhoods.

The craze has taken Bend's community by storm and grown so popular that several Facebook pages are active with Pokémon Go players posting daily.

James Brown, 25, is the creator and administrator of the Pokémon Go Central Oregon page, with 695 members as of Friday and growing.

Brown said he has met more people playing the game within the last month than he has throughout the six years he's lived in Bend

"I've seen people out socializing," he said. "I've seen tons of people strolling around downtown and Old Mill. It kind of forces them to engage socially. I've met some really cool people, and normally I wouldn't put myself out there."

Brown has lost 15 pounds in the last month from walking around playing Pokémon Go and said the game is unique because it forces players to get outside and interact with people, the polar opposite from traditional gamers he knows who play at home in front of the TV by themselves. Pokémon Go has made it easier for introverts and people with social anxiety to socialize doing something they love, Brown said.

"I honestly think a lot of people have banded together as a community to a point where it's not an individual game," he said. "That was the whole thing with the Facebook page. It was to see if people wanted to play."
Pokémon Go has three different teams players can choose to be on, perhaps because they like the color of the team or their friends are on the team. Team Valor is red, Team Mystic is blue and Team Instinct is yellow. All have their separate Facebook groups in Central Oregon.

Zach Tucker, 24, of Bend, is the administrator of the Team Instinct of Central Oregon page, which had 75 members on Friday. He said the teams can be pretty competitive trying to take control of specific locations in the game.

"There's definitely a rivalry between the three teams," he said. "I can definitely see how people would shy away from it, but the rivalries are all in good fun, though, and usually it's friends against friends. When it gets too competitive, we say, 'That's not OK,' and we try to play and just have fun."

Tucker said he thinks Pokémon Go has brought a lot of positivity to the community but understands concerns that the game has led to car accidents, trespassing and robberies. According to news reports nationwide, some armed robbers in other communities have used the geolocation feature of the game to lure players into secluded areas.

"On the flip side, as great as everything has been, I understand there (has) been a concern from the community," he said. "People wandering around at 1 and 2 a.m. playing Pokémon. It's making it hard to determine what is what. We try to cut things off around 11 or 12 so we're not out too late. I can see how it can cause a strain on law enforcement."

Lt. Clint Burleigh, a Bend Police Department spokesman, said he has not received any major calls like robberies or crashes directly related to Pokémon Go. He said although the game is being played by many in the community, it has not had a huge impact on police patrols.

"It's very difficult to pinpoint, 'Because of Pokémon Go, this happened,' because that's not a statistic we keep," he said. "If it was something really impacting our community, where we are getting multiple calls and are patrolling the community, then we would put out a public information post. It's kind of been a secondary issue, not the primary issue."

However, because of the way the game created locations for people to gather, trespassing is definitely an issue law enforcement is keeping an eye on, Burleigh said.

"Gyms" and "pokestops" are places where users battle and collect pokeballs and other items. They are usually located near public spaces like monuments, stores and buildings. The Old Mill District, equipped with a gym and over 20 pokestops, is a popular place to play among Pokémon Go users.

Noelle Fredland, the marketing director of the Old Mill District and Les Schwab Amphitheater, said the district has seen a surge of people in the area playing Pokémon Go and is happy to have visitors. But she said it has become increasingly challenging to control trespassing late at night.

"It's crazy," she said. "We are delighted to have people coming down and playing when stores are open, but once we get into late at night, like after midnight and into the morning, then people have been asked to leave."

Most people have been compliant, but some users have gone as far as jumping the fence at Les Schwab Amphitheater, Fredland said. Security guards in the district have been increased to let players know they are on private property and ask them to leave.

Fredland also said she has noticed players paying less attention to their environment, which causes her concern because of all the stories she has heard and read about in the news about such things as players getting hit by cars or other freak accidents. Two players in San Diego had to be rescued off a 90-foot ocean cliff because they were not paying attention while playing the game.

"You see people so into their phones," she said. "They're not paying attention to anything else around them, and we worry about them. You see people across the world making poor choices and not paying attention to their environment. We haven't seen that level, but it does make you worry."

Pilot Butte is another well-known Pokémon Go playground in Bend, but Chris Gerdes, interim manager of Tumalo State Park who also manages Pilot Butte State Scenic Viewpoint, said the park has not experienced any disruptive players.

"Pilot Butte is so busy anyways, and if they're playing, maybe they're playing in the afternoons when there are less hikers," he said. "It wouldn't surprise me. It's not a problem at this time, but that doesn't mean it won't be at a later date."

Pokémon Go player Kevin Keyser, 24, of Bend, was at a Pokémon meetup Thursday at Shevlin Park and said it's easy for the game to seem weird, and it can become "shady" being out late. But for the most part he hasn't met anybody bad, even while playing in the middle of the night. He said he has run into a new friend several times either at meetups or just playing downtown.

"I've seen this guy probably five to six times running around downtown," he said. "I don't think there's anything different or bad about this. When you look at a person, it's easy to kind of gauge what kind of person they are just the way they dress and stuff like that. But with Pokémon, you've got people that sometimes look fancy. Sometimes they look like me. We saw a guy in a suit, a full suit, that was just downtown catching Pokémon and he was like, 'I'm just between my lunch right now trying to catch some of these things.' Yeah, everybody plays."