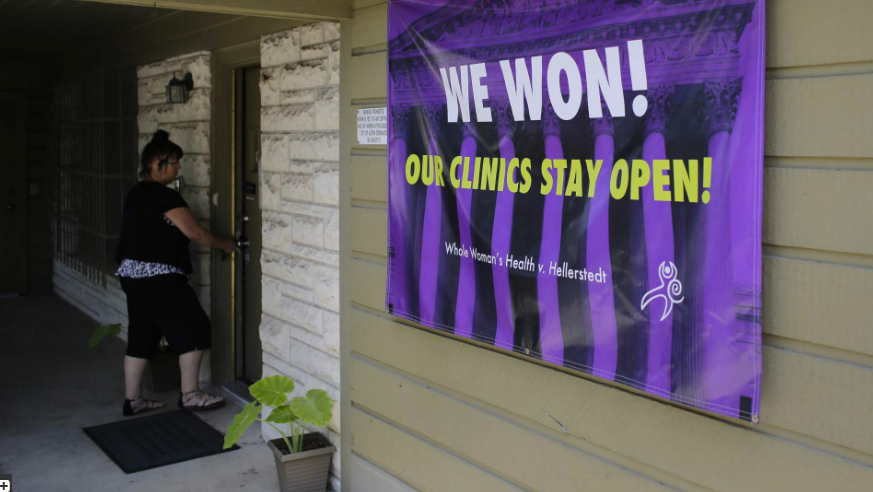 Although the U.S. Supreme Court overturned imposing stricter abortion laws in Texas on Monday, Oregon's access to abortion continues to be much easier than other states.
Oregon is one of the few states in the U.S. without any restrictions to receive an abortion, Mary Nolan, executive director of Planned Parenthood Advocates of Oregon, said. Women are not limited by age, parental involvement, waiting periods, physician or hospital requirements, gestation limitations or public funding, all common restrictions in other states.
But just because abortion laws in Oregon are not as restricted does not mean opinions on abortion are any less divided between anti-abortion and pro-abortion rights organizations.
The 5-3 ruling by the Supreme Court strikes down Texas legislation that would have required doctors performing abortions in their clinics to have "hospital admitting privileges" to admit patients into nearby hospitals. The other legislation would have required clinics to have higher standards similar to walk-in surgery centers, Nolan said, even though one type of abortion procedure requires pills but no surgery.
Many politicians in Oregon's past have tried to pass legislation like that proposed in Texas. Oregon Life United this year sought to put on the ballot an initiative to ban state funding of abortions but put its signature drive on hold in May.
"Extremist politicians who oppose abortion have introduced bills like this in (Oregon during) every legislative decade and every one of them have been denied," Nolan said. "The voters on a statewide level have had a chance to enact restrictions and the voters have said, 'No, we don't want to do that.'"
On the other hand, Liberty Pike, director of communications at Oregon Right to Life, said she believes the facilities at which women receive abortions services should be required to follow the same restrictions basic surgery centers are required to follow.
"Women are having surgeries in these facilities and they should be governed by the same restrictions in places where they get colonoscopies," she said. "But in Oregon we have such a strong liberal bias that the legislation was not able to pass."
Pike also finds it concerning that abortions in Oregon do not need to be done by a licensed physician and can be performed by nurse practitioners, midwives and physicians assistants.
"Clinics don't have to be licensed with a medical doctor to perform an abortion," she said. "It doesn't have to be a doctor who does it. It can be a nurse. There are also no restrictions on the length of when an abortion can be done."
Between January and April of 2016, Oregon Health Authority reported 1,812 abortions performed in Oregon, with 99 taking place in Deschutes County.
Although those numbers might seem high to anti-abortion groups, Nolan said, the overall abortion rate in Oregon has decreased. According to a 2015 preliminary report from Oregon Health Authority, 8,604 women received an abortion in Oregon; 2,959 abortions of those occurred between January and April. There have been 1,147 abortions fewer this year within the same time frame.
Nolan said only about 3 percent of treatments at the 14 Planned Parenthood locations statewide are abortions and said she believes it is because of the increased use of contraceptives and lowered rate of teen pregnancy rates in Oregon. The amount of comprehensive sex education in Oregon school districts is different compared to the rest of the nation.
"Oregon law requires school districts to provide age-appropriate education so they are prepared and are empowered to delay having sex until they are ready," she said. "Because of the success of accurate sex education and preventative care, women are empowered to take control."
Pike said she and Oregon Right to Life sometimes refer women to resources like Stand Up Girl, an online forum where women can discuss their real-life experiences dealing with unplanned pregnancies.
However, just because Oregon does not have any major legal restrictions against abortions, many women still struggle to access basic necessities needed to receive adequate health care and abortions, Hannah Rosenau, director of policy and improvement at NARAL Pro-Choice Oregon said. NARAL Pro-Choice also offers resources such as transportation, lodging and child care for unplanned pregnancy and abortion appointments.
"We do get calls from women who have (abortion) appointments in Portland and have additional challenges getting to where they need to be like gas, a place to stay, a bus ticket," she said. "I think one of the pieces we're really seeing is it's not just about insurance coverage. We are seeing it's about accessibility where there are additional barriers going on in real people's lives. It's important to adjust so we can have true access."