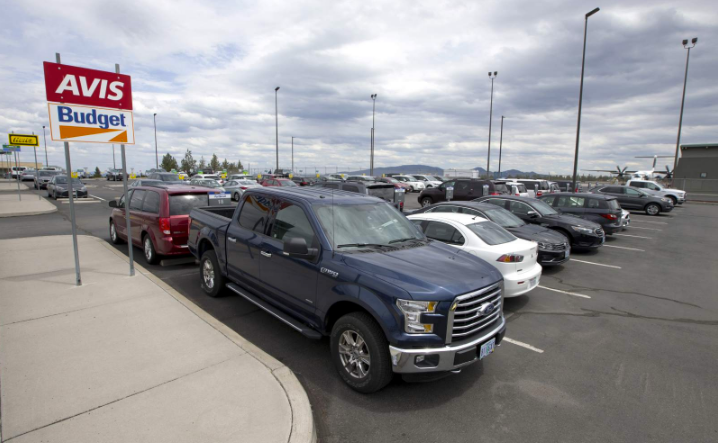 Tourists and visitors may see empty car lots at several rental car agencies in Central Oregon: This week there have been no cars available.
Many rental car managers said the shortage of rental cars could be due to the summer season, rapid population growth in Oregon, tourism and last month's Redmond Airport closure.
Few options are available when car rentals are sold out because popular rideshare alternatives like Uber, Lyft and Zipcar are unavailable in Bend or Redmond. Although no cars were available at the Hertz, Enterprise, Avis or Budget rental car locations in Bend or at the Redmond Airport, most agencies expect more vehicles to be available today.
Alex Perkins, the manager of Enterprise in Bend, said even though Enterprise has been bringing more cars in, it is hard to keep up with the demand.
"There's a lot of demand in this area," he said. "There is a supply-and-demand problem where we can't get enough vehicles to sustain the growth of Oregon."
According to the U.S. Census, Oregon's population has increased by 5.2 percent from 2010 to 2015, with Deschutes County seeing an 11 percent increase.
And Central Oregon's tourism economy is continuing to grow. Travel Oregon, the state's tourism agency, reported that in 2015 tourists spent $791 million in Central Oregon alone, which is more money spent on tourism in Central Oregon than in any other year.
Visit Bend estimated between 2.49 million and 3.04 million people visited Bend throughout 2015, and 75 percent of those visitors traveled by car. Of the visitors who flew, 66 percent drove a rental car to Bend from airports other than Redmond Airport and Bend Municipal Airport.
Hertz Location Manager and Customer Service Agent Tanner Davis said he thinks there is a shortage because of the summer season.
"Getting into summertime, the demand is a lot higher," he said. "The need is a lot higher especially right now. I do know in the past we haven't been this busy."
Davis said he also suspects he is drawing in more business because of insurance replacements and vehicle recalls, but more inventory is expected to come in.
No rental cars were available Wednesday afternoon at the Redmond Airport Enterprise, where inventory was impacted due to the airport's closure in May, said Aaron Phelps, the manager's assistant.
"We have been a little short recently, which is pretty unusual," he said. "It has been busy with summertime and we've actually, in the last two days, had 20 new vehicles brought in. Ten were brought in on Tuesday and 10 (Wednesday). When the airport closed for a few weeks, we kind of diminished our fleet and are building it back up again."
Although Bend and Redmond have 10 rental car locations, many of these locations share fleets.
The Budget and Avis locations in Bend and at the Redmond Airport share one fleet but declined to say how many cars are in that fleet. Enterprise, National Car Rental and Alamo also share one fleet at Redmond Airport and declined to say how many total cars they have.
Enterprise in Bend has a fleet of 200 to 300 cars but had no cars to rent Thursday afternoon. All of these agencies also offer one-way rentals, which allow renters to pick up vehicles from one location and drop them off at another franchise location.