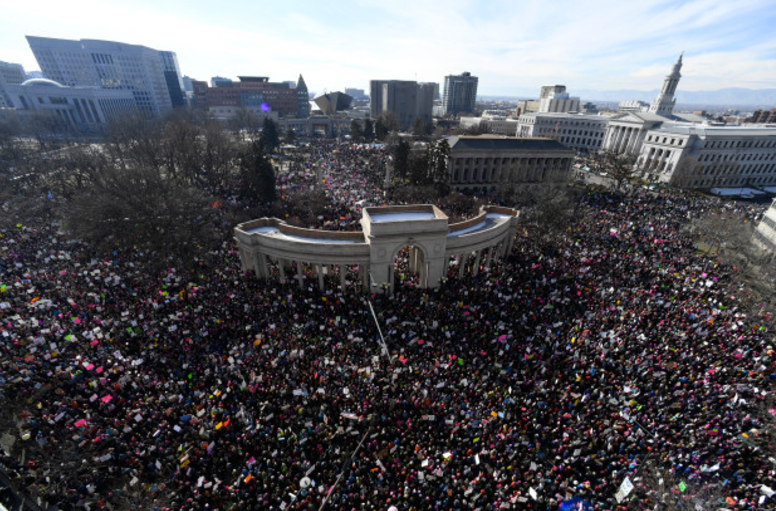 Tens of thousands of people from across Colorado flooded Civic Center in downtown Denver Saturday morning in a massive showing for "human rights and equality" the day after the inauguration of President Donald Trump.
People flowed into the park from all directions even as the crowd began to slowly funnel out into the parade route through the city.
"Love not hate makes America great," the marchers screamed, riffing off of the new president's campaign trail tagline. Many were carrying signs, most were wearing pink hats that signaled solidarity with the national Pussyhat project. There were people of all ages, including an elderly woman being pushed in a wheelchair while she held a sign that read "Now you've made Nanna mad."
"There is a lot of fear going around and we are concerned about health care," said Abi Vajda, who joined the march with two friends. Vajda and Michelle Swindle have Loeys Dietz Syndrome. Swindle and their third friend, Kristi Powell, were using wheelchairs — decorated with encouraging signs, such as "Girls just want to have fun…damental rights" —  as they navigated the massive crowds.
Though the event was billed as Women's March on Denver, many in the crowd were male, including a puppetmaster from Circo De Nada circus theater who had constructed a 13-foot tall puppet in the form of a woman, towering over the crowd. He declined to give his name saying "I don't often protest, but there is no choice anymore."
The Denver rally was one of hundreds of women's marches taking place worldwide. Massive numbers of people filled the National Mall in Washington, D.C., the Boston Common and Pershing Square in Los Angeles. In Denver, so many protesters showed up for the rally, that people began to divert from the parade route, filling the 16th Street Mall for blocks. By 11:30 a.m., Jessica Rogers, one of the event organizers, estimated that the crowd had swelled to more than 100,000 people.
"March! March! March," some people chanted, hoping to spur movement out of Civic Center.
"It's not a march. It's a stand. I'm taking a stand," joked Grace Morlock, 69, who took a standing-room-only bus from Longmont to participate in her first-ever political rally.
She made pussyhats for herself and three friends marching Saturday. Carol Vaughan, of Aurora, missed a connection with a group of friends she hoped to march with, but found a new group of buddies in Morlock and her crew.
"It's just time to do something," Vaughan said. "It's time to get our heads out of the sand and realize we can make a difference… I have no idea what I can do, but I'm going to do it."
Addie Cutler and her girlfriend, Riley Heatherly, had planned to march in Washington, but opted for the closest, best option to Fort Collins, where they are seniors at Colorado State University.
Both said they are worried they'll lose their health insurance coverage after college if elements of the Affordable Care Act are repealed, as the Trump Administration has promised.
They were marching with Addie's older cousin, Karey Riemersma, who in 1992 participated in a massive Washington rally in support of abortion rights.
"It's supremely infuriating that 25 years later, we're fighting the same damn fight," Riemersma said. "But we're not backing down. We'll never back down."
Park Hill resident Julie Puma, who had "Not my president" painted on her face, said Trump has "promoted hate, sexual assault and rape culture. There needs to be a resistance because he accepts no accountability for the things he said to damage our country."
Nasreen Moloo and her teenage daughter, Ayesha Hussain, walked from their home in Capitol Hill. Moloo said they were there in solidarity "with all people, humanity, standing against hatred and bigotry."
Ayesha said something her mom had said earlier about the Trump administration's intentions scared her. "He's not going to be thinking about anything besides his own interest,"  she said. "It just really freaks me out, because we are an entire nation.
Katrina Rosas, 22, came to the march with her 19-year-old sister Kassandra Rosas. "I was terrified when Trump got elected because I thought that so many people were on his side. Now, seeing so many people, it's really refreshing. It's really great."
By 1 p.m., Denver police had arrested three men during the march, police spokesman John White said. One in connection with assaulting a peace officer and another for possessing an illegal knife. The third had an active warrant for his arrest. As of 1 p.m., no women had been arrested.