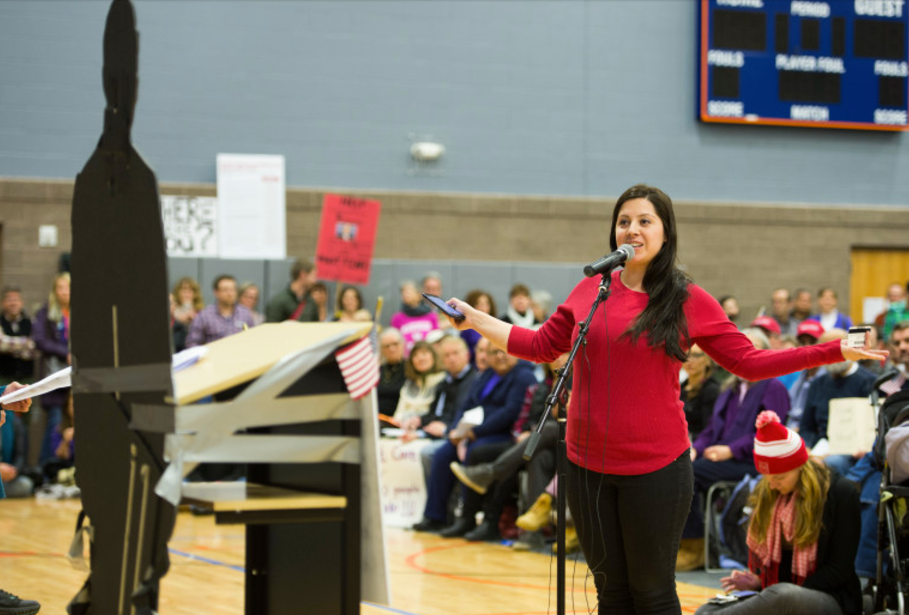 Coloradans packed Byers Middle School gym and cafeteria Friday evening for a town hall event to ask Republican U.S. Sen. Cory Gardner 
questions
 regarding issues such as health care, climate change and immigration.
Gardner, who did not attend the event, was represented by a large cardboard cutout.
The senator's office released a 
statement
 Thursday noting Gardner has met this week with constituents in Denver, Golden and Fort Collins to discuss advancing Colorado's aerospace industry, agriculture and manufacturing, and how to grow the economy and create jobs.
"Washington, D.C., cannot operate in a vacuum, and that's why I'm always eager to meet with Coloradans and gain their input on a variety of issues," Gardner said in the statement. "I'm fortunate to have had the opportunity to meet with so many different groups across the Front Range, and I look forward to continuing to meet with Coloradans in the days ahead."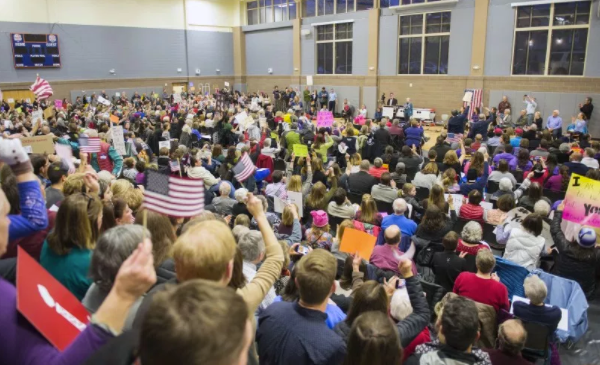 "I am not a paid protester," she said while waiting in line, which wrapped around the block of the middle school. "We're here to send a loud message — to listen to us. He does not want to."
Robinson said she thinks many Coloradans oppose some of President Donald Trump's Cabinet selections — including Betsy DeVos, for secretary of Education, and Scott Pruitt, head of the Environmental Protection Agency — but Gardner is voting against his constituents' wishes.
Cheryl Urda-Wissel of Arvada agreed, saying Gardner refuses to have a peaceful and respectful dialogue with voters.
"Telephone town halls are not a way to engage with constituents regularly," she said. "He is unwilling and is voting with Trump and with those who donated to him."
Inside the school gym, the cutout of Gardner was taped to a lectern and people symbolically addressed a series of 11 
previously posted
 questions to the cutout.
Guadalupe Azua began to tear up as she asked about Gardner's plans for the Affordable Care Act. She said she went an entire year without medication for her diabetes and worries that if she does not have a job, or chooses a different one, she will lose her health insurance.
"You could be the one to approve the ACA," she said into the microphone as her voice broke. "Are you going to help people with no insurance or are you going to comply?"
The "With or Without You" town hall meeting was organized by seven Colorado citizen-led organizations, including "Indivisible Front Range Resistance." The event was live streamed on the "Together We Will Colorado" 
Facebook page
.