By Hayley Sanchez/The Denver Post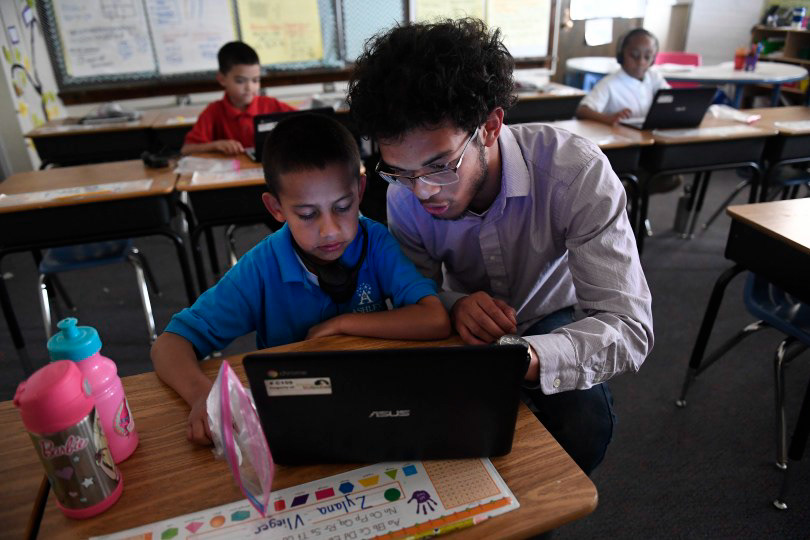 For Patricia Cardenas, higher education once seemed out of reach because of financial setbacks and shaky grades in her freshman year.
But an after-school program offered at her high school helped pave Cardenas' path to college, as it has for many others. Cardenas is now a student at Metropolitan State University of Denver.
The 21st Century College Readiness Center is just one of 102 after-school and summer programs in Colorado funded by the 21st Century Community Learning Centers Grant Program. The federal grant is the only one dedicated to supporting after-school programs and could be eliminated under President Donald Trump's budget proposal.
Coordinators of after-school programs who work with some of 130,000 K-12 students in Colorado involved in after-school activities are anxiously awaiting the final decision for the 2018 budget.
"It is devastating to think about it not only for Scholars Unlimited but for all the other programs in our state that are serving at-risk children and youth," said Coleen Truax, development director of Scholars Unlimited, an after-school and summer program in Denver, and a recipient of the 21st Century Community Learning Centers Grant.
The 21st Century Community Learning Centers Grant federally funded nearly $1.2 billion to community learning centers last year and served 1,166,637 students nationally. The grant helps provide academic enrichment opportunities to kids in after-school and summer programs, especially those in high-poverty or low-performing schools.
Some programs provide services like tutoring, credit recovery options and development for successful study habits while others offer a variety of outdoor recreation, field trips and even meals — some even do both.
But Truax said many of these opportunities are not always available to low-income students, especially throughout the summer.
Scholars Unlimited works with Denver Public Schools and serves roughly 1,300 kindergarten through fifth-graders every year. Truax said 95 percent of students involved in the program qualify for free and reduced lunch, and for half of the students in the program, English is not their first language.
"When you look at kids in poverty and from disadvantaged backgrounds, they have less access to opportunities as their peers and experience summer slides," she said. "I think by providing these kinds of programs, we are providing equity and it's a way to level the playing field for kids who might be at a disadvantage."
Research shows that lower-income communities come back to school after summer almost an entire grade level behind their peers, said Erin Brown, executive director for the Office of Children's Affairs. Brown said her office funds $2.1 million of tax revenue back into after-school programs for Denver's schools.
"Denver really has a long history of being in involved in after-school activities," she said. "Children involved typically have a stronger sense of self, are better decision makers and they have more self agency to process decisions. Children involved in after-school complete high school at a higher rate and are more likely to seek higher education. After-school has the ability to expose kids to opportunities and experiences that they may not otherwise have."
Marie Addleman enrolled her first-grade daughter, Madelynn Konka, in Scholars Unlimited's summer program last year at Ashley Elementary School and said she was impressed by the curriculum and Madelynn's growth throughout the summer.
"I'm a single parent, and the summer program was a way for Madelynn to be around other kids while also working on delayed social and emotional things," she said. "It's a blessing to know that there was a strict and comprehensive curriculum. They even went swimming and that's not something I would have been able to do with her."
Teachers of the 21st Century Grant reported in a survey that 76 percent of students showed improved academic performance with 67 percent showing an increased motivation to learn. Between 2016 and 2017, the 21st Century Community Learning Centers Grant funded $11.5 million to Colorado's after-school programs, according to a report from the Office of Dropout Prevention and Student Re-engagement with the Colorado Department of Education.
Metro State is a recipient of the 21st Century grant and provides after-school programs to middle and high schoolers at some Denver Public Schools. Carla Mirabelli, interim director of the Center for Urban Education at Metro, said the 21st Century College Readiness Center reaches about 1,000 students during an academic year.
"Having accessible opportunities for these students increases engagement and achievement," she said. "21st Century has really given us an opportunity for the university to strategically engage to ensure college readiness," she said. "There's already a lack of services and funding within the communities we work with and there would be even less with this cut. I would go as far as saying that some of these students would not consider pursuing higher education at all because for a lot of Denver Public School kids, this is the only pathway that they have."
Cardenas said she does not think she would have pursued higher education if she did not attend the after-school program.
"College, it just didn't seem possible for me because I didn't do so well my freshman year of high school and my mom couldn't afford to contribute to my education financially," she said.
Cardenas went through Metro's college readiness program during her senior year of high school and now works as a tutor and mentor for high school students in the program. She said the program did not just encourage her to pursue a college education — it helped her prepare to attend one.
"They helped me with essays and homework and making sure I was on track to graduate. There was a scholarship available, too, if I chose to attend Metro," she said. "I know there are not a lot of students of color as good role models, but I am a Latina and first generation and I can go back to my high school and say, 'Look at me, you can do it, too,' and help them get to college."