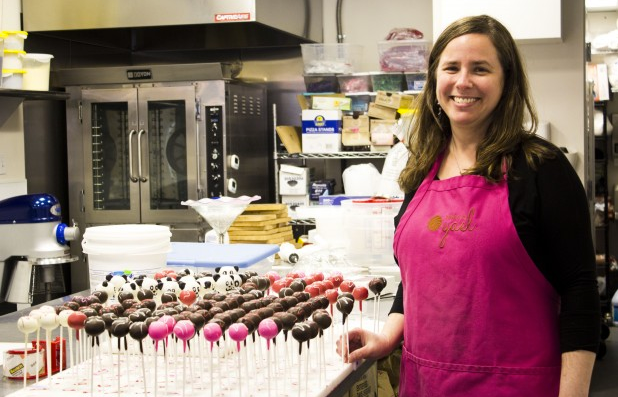 Though opening a bakery was not always in the plan for "recovering lawyer" Yael Krigman, building a business filled with delicious and unique cake pops has become her passion.
After working at a law firm for eight years, Krigman decided to open her own bakery in January 2015.
Baked by Yael
 is the first cakepoppery in the District. Located directly across from the National Zoo, Krigman has found a way to master the popular cake pop treat that has taken the culinary world by storm.
"Baking was an outlet that I enjoyed, but I never thought of myself a creative person," she said.
While still working as a lawyer, Krigman said she sold her treats online and shipped them nationwide.
"I realized I was passionate about baking and business," she said. "I felt very strongly about opening a store."
So in 2011, Krigman left her corporate law firm job and began to focus on Baked by Yael full-time.
Not having any formal business training, she launched a kickstarter campaign in 2013 with the goal to reach $75,000 to open the store.
"It was an intense full-time job," she said. "$75,000 was ambitious, especially for a bakery."
Krigman said she constantly struggled to spread the word and continued to face the challenge of financing and locating resources. But by the end of the month-long kickstarter, Krigman had surpassed her goal and found a bank willing to take a chance with a loan.
"When you're very passionate, the rest sort of comes to you," Krigman said. "I needed to do it and I was willing to do whatever it took."
Yael has perfected and shared her recipes with a few dozen employees, who help run her bakery. Her shop provides tasty baked goods inside bright pink walls and a sweet aesthetic.
"I didn't want to just sell baked goods – I wanted people to experience it," she said.
Her cake pops are distinct and artistic on the outside ranging from vanilla, chocolate, red velvet, cookies and cream, lemon and raspberry. She even has some decorated as pandas to complement the zoo.
Krigman said cake pops taste better than any other baked good and described them as "moist and a wonderful and exciting experience." She also enjoys how versatile they are using color to customize their outside appearance.
But Baked by Yael is not limited to cake pops. She also sells a variety of cookies, bars, bagels and an Israeli pastry called Rugelach, a cinnamon and chocolate filled roll based off of her aunt's signature recipe.
Krigman is among many female entrepreneurs in the Washington, D.C. area who run almost half of all small businesses in D.C.
"We are contributing to every aspect of economy," Krigman said. "It's an important part that we would also be owning businesses."
Moving forward, Krigman would like to focus on marketing and wants to open more stores in the D.C. area, and although there are many opportunities for growth, she said she wants to keep it local and small.
"It's personal to me," she said. "The brand is very important."
Baked by Yael hosts a variety of cake pop parties and events like baby showers, birthday parties, weddings and more. Her cake pops sell for $3.25 a piece, or you can get them by the dozen at the Woodley Park location and online.
"I don't take it for granted and I do feel fortunate," Krigman said. "It happened and it felt so natural. If you had asked me 10 years ago, I never would have said I would own my own business or bakery, but now I couldn't imagine anything different."