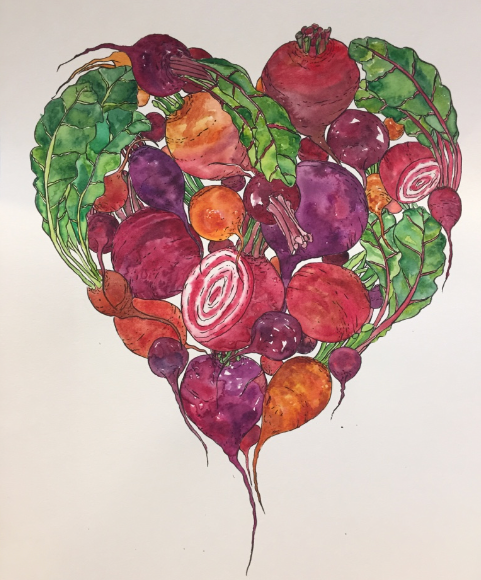 Through every stroke of Marcella Kriebel's black-point pen or paint brush is made with purpose, you might say she became a self-employed watercolor artist by a path as nearly as opaque as the water after one of her classes. 
As murky as it may have been, Kriebel, 30, is now running a successful business combining her love of art and illustration with food and recipes.
Kriebel is the author of the cookbook, "Mi Comida Latina," and is the new owner of Marcella Studio at the Arts Walk in Brookland. The local D.C. artist creates bright and contrasting watercolor illustrations inspired by her experiences studying abroad and backpacking in Latin American countries.
Most of the art in her shop features colorful foods commonly used in Latin American recipes, like avocado and peppers, along with seafood and cocktails. Kriebel said art and food have always been a large part of her life.
"I grew up in a household where food was community," she said. "When I went abroad for the first time, I found that striking up a conversation with someone around food — and how they prepared something and who taught them — was a wonderful gateway into the culture itself. It was that interest that really drove me to keep learning recipes wherever I went."
When perusing the art in Kriebel's shop, her style becomes unmistakable: signature thick and detailed black lines and strokes, filled with rich and bright colors. Kriebel said her artistic style is based on the sketchbook journal she used to document her experiences in Latin America, which eventually turned into her first book.
"When I started my cookbook project, I had pen and ink and a small watercolor palette with me," she said. "I'm inspired very much by color, even when I cook. If I'm cooking something that's all green, I'll always want to add a dash of red pepper or tomato, or something complementary."
As beautiful as Kriebel's artwork may be, they're also often informational. A print seen in Kriebel's shop, as well as many places throughout the city, might feature watercolor illustrations of different types of coffee drinks, representative of her love for learning and a creative way of sharing those passions through watercolor.
Kriebel said she is mostly interested in Latin American countries because she is fluent in Spanish, which makes it easier to immerse herself in the culture. Kriebel studied anthropology and art at Williamette University in Salem, Oregon, but she focused on printmaking.
"Admittedly, watercolor was never something that I studied. The watercolor was initially just a way for me to illuminate my sketches in my journal," she said. "So with watercolor, it's like anything you do in life. The more you do it, the better you get."
Her works begin as illustrations. Kriebel uses pencil to make contour lines, then traces over the pencil in ink, adding watercolor at the end.
The watercolor phase can definitely be described as fun to watch, as Kriebel meticulously swirls colors together on her palette. She uses a light hand when applying watercolor to the page, explaining that once color touches it the canvas can never be truly white again.
Kriebel has also been holding watercolor and cocktail classes at Union Market, in conjunction with Buffalo and Bergen's Gina Chersevani, who supplies the cocktails.
She begins the class teaching different watercolor techniques to create different textures and opacities. She teaches her students techniques like dry brush, wet on wet, washes and glazing. But after the initial suggestions, Kriebel leads the students-turned-artists to their own canvases prepopulated with one of Kriebel's drawings, and circles the area offering help, while Chersevani serves refills.
For someone admittedly unfamiliar with the techniques of watercolor, it was informative to try the different techniques and learn first-hand the falsehood that watercolors are just for whimsical, light, pastel paintings. As evidenced in the bright colors of Kriebel's paintings, the more layers of watercolor pigment added to an illustration, the brighter the colors grow.
Kriebel began the collaborations with Chersevani over the summer.
"I think, for folks who aren't used to picking up a paintbrush and just drawing, having lines in front of them already enables them to just get to the creative part — the fun part of illuminating the composition without that pressure of thinking, 'Oh I don't know what to draw,'" Kriebel said.
Chersevani is not the only person Kriebel collaborates with as a "food-illustrator." She will be working with Maria Gonzales, who is Cuban-American, to release another book filled with Cuban-based recipes, sometime in 2017.
"I'm so excited about it," Kriebel said. "[Maria] is lending her treasure trove of recipes to the project, so she's doing the technical writing of the recipes and I am going to be designing and illustrating the whole thing."
Kriebel plans to spend much of 2016 researching and learning about Cuban culture, through food and her anthropology background. She is planning on going to Miami, Florida, and Union City, in New Jersey, which have large Cuban-American populations. She's also planning a visit to Cuba.
"I'm hoping to weave in some of that experience itself into the book," she said. "I am hoping that when I go to Cuba, I get to learn some more [signature Cuban dishes]." Long-term, Kriebel said she would like to continue collaborating with others to make the heavily illustrated books that work so well as a "medium" for her artwork.
"You have this double-page spread and anything could happen," she said. "I also love that it's rooted in information. There's a certain element of education that's really fun. So I feel like, with making books, people appreciate it because they can use it as a reference material, but then they can also enjoy the artistry of it."
In addition to the books and print collections she makes, Kriebel also does original commissioned work, beginning at $200, which she said has been pretty successful.
"I'll take a family recipe, for example, and I'll illustrate it using some of the kitchen elements that people want me to include in the composition," she said. "I'll include a small edition of prints, and they'll gift perhaps that original and the edition of prints to their family members."
Kriebel said she currently has about 90 different illustrations in her print collection, which are sold in a variety of sizes, as well as three-packs of greeting cards.
"It's fun because you can mix and match them. A lot of times people pick three to five and hang them together, or one maybe, and they make that kind of a statement piece in their home," she said. "I have something in there that strikes everyone's fancy."
In the beginning of her career, Kriebel said she started out by selling her artwork on Etsy, which slowly built into a small internet business. She also went to art markets and attended craft fairs. She gained popularity after a friend made a video about her for the Kickstarter campaign for "Mi Comida Latina" and it went viral.
During college, Kriebel did an internship at the Smithsonian American Art Museum and moved on to be a contractor for public and private museums. She said she had her heart set on doing museum exhibitions as a career.
"In college, I didn't expect to be where I am now. I didn't expect to be a self-employed artist," she said. "I know that the book has lended a lot of opportunity for me, as an artist, to share my art, and then to continue to learn about the world through recipes."